I love these MojoMonday sketches! I sure hope my mom and my future mom-in-law don't mind I'm posting their cards before they actually get them! :o) I hope everyone has a blessed Mother's Day... and thanks for looking!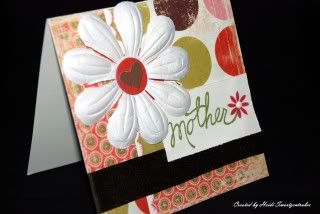 Patterned paper: My Mind's Eye
CS: Close To My Heart Colonial White
Paper flower: Close To My Heart Big Pinks
Ink: Close To My Heart Olive and Tulip
Brad: CTMH Colonial White brads
Stamp: CTMH May Word Puzzle MyAcrylix
Ribbon: unknown

God Bless!!!