Our challenge over at
Practical Scrappers this week is transparencies... These can be challenging, but there are tons of ideas posted, so please take a look!

I decided to make a pocket for some wallet sized photos... sometimes you may want to incorporate a lot of pictures from an event or family photo shoot, and this is a great way to do that. I displayed 2 pictures from our family pictures from May 2008, but I have 5 more stuck down in the pocket. There's a lot going on over at Practical Scrappers, so make sure you check it out... lots of challenges and lots to win!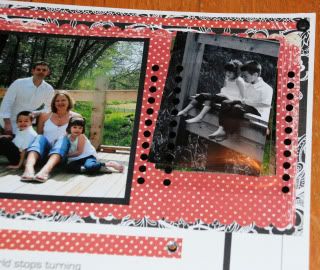 Thanks for looking!