Well, it's the first snowy day of the season... and a great day to sit on the couch, wrapped up in a blanket, with the laptop. We've had a busy week with Thanksgiving and all. We got to go to mom and dad's brunch... then went to Dave's parents for awhile that afternoon. I went shopping on Friday... and I don't think I'll ever do that again! It's not worth trying to fight for the deals... especially when you find the exact same thing only cheaper @ the next store! I did get a lot of Christmas shopping done... but, I was exhausted Friday night! We went to a friend's wedding last night in Springfield. It was beautiful (but, what wedding isn't?) and we had a great time. Most importantly, I wore the cutest shoes... and they weren't even that uncomfortable! I work with all these girls... let me just say that there is never a dull moment! I love 'em!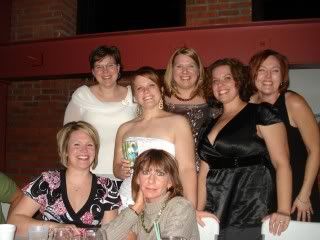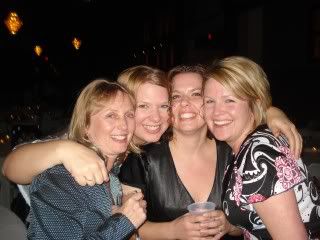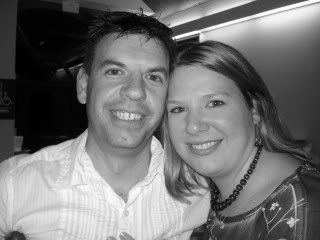 Over the past week I have had some time to work on a few cards... I made this one for a home gathering make and take... it is so easy. It's a 3x3 card that would be perfect for a gift tag... If anyone is wanting to save some money this season, one way to do that is to make your gift tags. All you need is 2-3 colors of cardstock, one ink, and a small stamp. I just added the ribbon as an extra touch, but this would be cute without it.

I had a baby shower earlier in the month, and there is nothing more fun than to make cards for a baby! One is 3x3 and one is 5 1/2x4 1/4...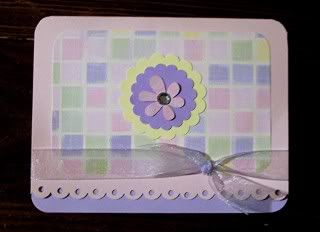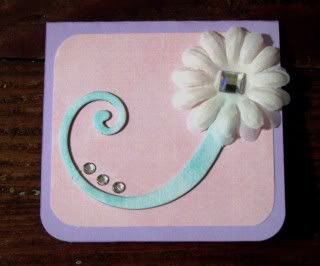 And finally... I made a card for the wedding that we went to and for my nieces birthday. Everything is Close To My Heart, except I used a different company's stamp for a couple of the flourishes (on the wedding card)... but I absolutely love the way they turned out! Same idea and sketch for both.


<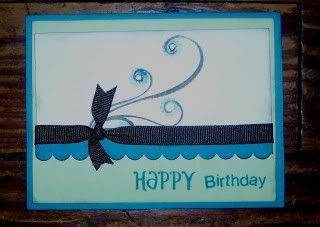 Hope this finds everyone well and hope everyone is getting prepared for Christmas! It's right around the corner. Also, as well as wishing a happy birthday to Lexi... Happy 39th anniversary to mom and dad!!! Blessings and thanks for looking!