Well, I actually met 2 goals this week! As you know, I joined Weight Watchers this week. My meeting was Tuesday night, but I started watching what I ate on Monday. My 2 goals this week were to stay within my point value each day and to exercise each day. I did both! I am so blessed to have Dave and my friends at work. They are all very supportive and helpful... Thank you!
Now, I've done a little creating. But, my friend Jill gave me the book
Twilight
to read... I picked it up this morning to read a little before I started making cards... I couldn't put it down!!! It is absolutely amazing... So, I made myself put it down to make dinner (I guess we have to eat!) and then I made a couple cards. Everything is from Close To My Heart... and I've used the Cuttlebug on some of them... Thanks for looking!
Here's a simple cute invitation I put together. I used Game On paper and black ink. The stamps on this are not CTMH. I sometimes struggle with more masculine cards and invitations (this one is for Gabe's 8th birthday party)... but this is great paper for boy stuff! I made it postcard style to keep it simple.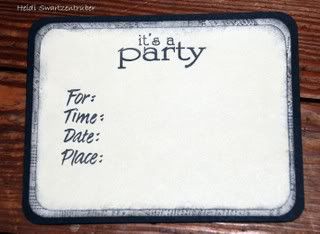 Just a simple birthday card. I used Cranberry, Cornflower Blue, and Colonial White cardstock and the flowers are from the September Word Puzzle stamp set. The ink colors are cocoa and cranberry.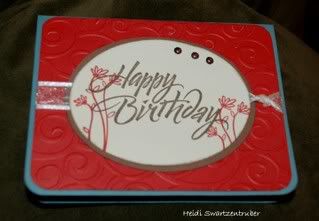 Finally, this is the birthday card that I made for my best friend (and unbiological sister:o) Happy Birthday, Stace! I love you!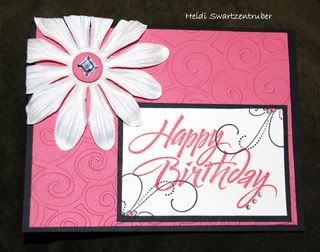 Thanks for all your thoughts and prayers this week and I'll keep you all updated on how the next week goes! Thanks for looking! Blessings!