Although it's been a hectic week, I did manage to get a few projects done. I met up with my friend Pam on Monday, and we created a couple cards and did a lot of talking! It's always fun to get together and create... Today I finished a layout. I haven't been doing a lot of scrapbooking lately and I thought I'd try a layout that I'd been thinking about. I had this awesome pic of our family and I hope I did it justice... Thanks for looking!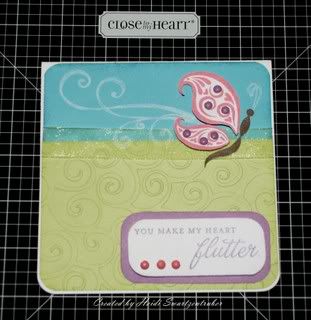 I used CTMH Sweet Leaf, Twilight, and Petal CS, Daisy White, Petal, and Blush ink, Petal and Blush brads, Sweet Leaf organdy ribbon, and the March Stamp of the Month Butterfly Wings
I used B&T paper from Perfect Day, Juniper and Colonial White CS, Juniper ink, Colonial White button, Colonial White organdy ribbon, and a Big Pinks paper flower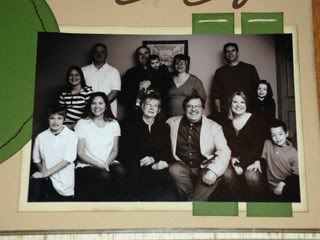 And... I'm working on a slide show of some family photos of last weekend. Grandpa Dean and Grandma Nonie were brave enough to watch 4 of the grandkids (Addison, Elexis, Gabe, and Avery) over night on Saturday. Then we all got together, including Andy, Jill, Ethan and Logan, for breakfast on Sunday morning. So, you can imagine that there are tons of pics over the course of the weekend... and you know that I have to share them! So... stay tuned!!! Blessings!