I'm celebrating! I've had over 3000 visits to my blog... I want to thank everyone for visiting and checking out my artwork... It's been so fun having a blog and it's great to know others like it as well! So..... in honor of this, I've decided to give out some blog candy! It's a kit from Close To My Heart called "Tickled Pink"... it includes beautiful patterned paper, cardstock, a MyAcrylix stamp set, Daisy White embellishments, and a sponge for inking! The colors that go with this amazing kit are Blush, Twilight, Crystal Blue, Sweet Leaf, and Daisy White. I'm posting a couple cards that I've made with it so you can see what the potential is!

What you have to do... I would like you to leave me a comment about what inspires you when you are creating... is it color? nature? a new embellishment or paper? family and friends? surfing through all the amazing blogs? food? travel? So many things inspire me, but what I really love is downloading my photos and seeing all the smiling faces of the people I love! That includes my furbabies :o) It makes me want to create amazing pages and cards that feature these great pics... So, now it's your turn... what inspires you?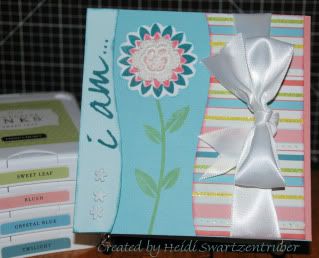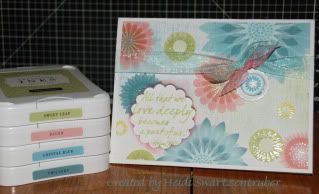 I will be accepting comments through July 25th and then I will randomly select a winner! The winner will be announced on July 26th... Who knows? 2 people may win :o)

Thanks for everything!
Blessings!