Isn't it amazing the memories that can be induced when you taste or smell something particular? This weekend I made caramal apples... When I opened the bag with all the Kraft caramals in it, I couldn't help but smile.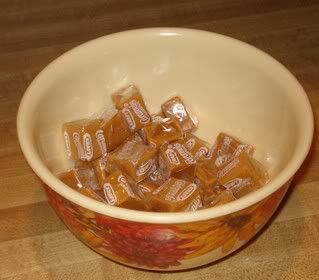 I remember riding into the Fisher elevator with Grandma or Uncle John and we'd always get these wonderful little caramals. It was such a treat... Even now, when I have these little candies, I have wonderful memories of being young and carefree and sitting in a wagon full of soy beans with my big brothers and just laughing... It's so great just to laugh... I have to keep that in mind sometimes :o)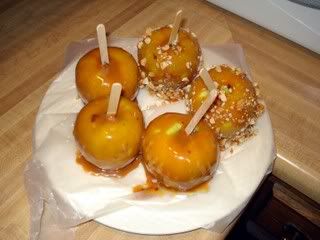 As for the rest of our weekend... Gabe played his last game of the season on Saturday. He got a medal that he wore ALL weekend. He probably would have worn it to bed if we would have let him! Other than that... we played a lot and colored a lot. They made their Christmas lists... because Santa is really watching now that we are only a couple months from Christmas!!! They even spent the night last night and they got to spend the whole day with their daddy since there was no school today... It's been another busy, loving, fun, and exciting weekend... we are blessed!